Ellie gets awakened by her late husband's voice.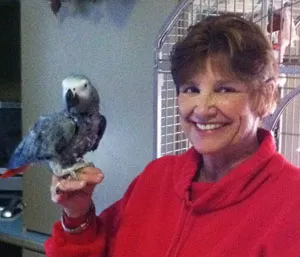 10/21/11 --- My husband, Tom, died one year ago today. This morning I awoke to his voice, as I do many mornings. But to me, it is not creepy. Rather, I find it comforting and somewhat comical.
I hear, "Good morning", "Wanna shower?" or maybe (if the dogs are barking) a few remarks at them, like "Quiet" or "Wanna go outside?" If the phone rings, I hear Tom's voice clearly say, "Hello, how's it going?"
I hear Tom's voice, but it's coming from Martinni.
Since childhood, I always wanted a bird that talked. And finally in 2000, I made that dream come true. I guess I figured I was running out of time, since an African Grey Parrot (my chosen talking bird) has a life expectancy of between 50 and 70 years.
"Martinni" came to me as a rescue bird with a severe case of 'feather chewing'. He had no bright red tail feathers, no wing feathers, and his body looked like a plucked chicken covered in fuzzy down.
After many months of reading and home remedies, Martinni began to grow wing and tail feathers. His body feathers remain a bit shredded, because a bird's feather-chewing can be likened to nail-biting in humans; a hard habit to break. He learned to repeat things he heard Tom and others say. He imitates phones, barking dogs and squeaky doors. But, when speaking, his preferred voice is always Tom's. Even things he learned from me ... come out in Tom's voice.
So, although I hear my deceased husband's voice, I have not lost my mind, nor am I being haunted. I expect to have the memory of Tom every day of my life through Martinni ... the bird, not the drink. And today, on the 1st anniversary of his death, I am particularly grateful for Martinni's gift.
Ellie Schmittinger founded Eldercare Systems, Inc. in Tucker in 1988.